When I was pregnant, I truly had no idea how my life would change when I became a mother. My head knew things would be different, but in terms of putting it into practice, I had no idea what I was in for. No idea that with a baby, toddler, or both in tow, even a simple trip to the store would be, well, inconvenient. (Since I found being pregnant rather inconvenient as well, you'd think I would have clued in earlier, but what can I say? I learn by doing.)
Come to think of it, childbirth was rather inconvenient as well. But of course, being Mommy to those two babies of mine is worth every inconvenience in the motherhood accessory package.
I was reminded of this when I returned from the grocery store one evening last week (having left my hubby with the kids) and my two-year-old daughter, Sophie, exclaimed "MommyMommyMommy!' as she ran over and gleefully attached herself to me. I set down the groceries, but I had more to bring in, and my hubs wasn't feeling well so I wasn't about to send him out in the cold to do it. I gave Sophie a hug and said in my best 'this-is-good-news voice', "I've got to get the rest of the groceries, baby, I'll be right back. Right back!"
Sophie wasn't buying it. "No-oh-oh!" she cried as big tears ran down her cheeks. I stood up but she tightened her grip around my legs, wailing brokenheartedly.
I attempted to detach her. "Right back, honey."
More tears. The saddest face I'd ever seen.
I sighed, then scooped down and picked her up. Together we went back out and got the rest of the groceries.
Carrying a two-year-old while you're also carrying in a week's worth of groceries? Inconvenient.
Your two-year-old loving you so much that she can't wait sixty seconds while you run out to your car? Precious.
Carrying Sophie and a million grocery bags at the same time, I decided to just savor the precious inconvenience. Because one day, when I'm not the object of her affection, and when it's not her heart's desire just to be with me? I imagine I'll find that rather inconvenient as well.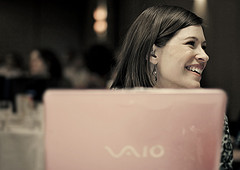 Jenny Rapson is a SAHM of two, a wannabe fashionista, follower of Christ and coupon addict. You can find her blogging about motherhood at Mommin' It Up and pretending to be stylish as the editor of Blissful Style at Blissfully Domestic.
Photo of Jenny by Secret Agent Mama